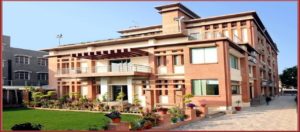 Identity Card
The school values the security of each and every child. Each child is issued two I-Cards initially. The Light Blue colour        I-Card is the Student I-Card and the Pink colour I-Card is the Parent/Escort I-Card. The students availing school transport are given the  I-Card with a Yellow Lanyard and the students availing any other transport are given the I-Card with a Blue Lanyard.  

The student I-Card has to be worn daily to school. The Parent/Escort I-Card is to be kept by the parents/Rickshaw puller/Van Driver or whosoever comes to pick up the child from the school premises or from the bus stop. This rule is mandatory for the security of our students.

School Uniform
It is compulsory for the students to come in flawless and neat uniform. Regular school uniform is worn on all working days except Wednesdays. For Classes I and II  House uniform is worn on Wednesdays and Sports Uniform on Friday.